Many women develop sleep apnea during pregnancy which can contribute to risk of gestational diabetes and gestational hypertension.
Weight gain and hormone changes of pregnancy have been shown to increase the prevalence of obstructive sleep apnea (OSA) in women. Multiple studies have shown that 10% or less of women have sleep apnea in the first trimester, but 26% of women have sleep apnea during the third trimester. This indicates that some women have OSA prior to pregnancy which many worsen, but many develop OSA during gestation. This has even been called gestational sleep apnea.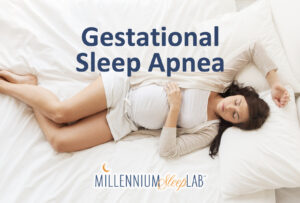 Why does sleep apnea occur during pregnancy?
Several physiological changes that occur during pregnancy contribute to the development of sleep apnea.  Hormones cause mucus and inflammation in airway passages.   Progesterone causes relaxation of muscles including muscles in airway which means they are more likely to collapse.  Increased weight alone can sleep apnea since BMI is the number one predictor of obstructive sleep apnea.  More info on OSA during pregnancy
What is the risk to the mother?
Sleep apnea is defined as repeated pauses in breathing usually due to a collapsed or partially closed airway. Each cessation of breathing results in a drop in oxygen level and causes the body's "fight or flight" response to activate to take a breath. This is called sympathetic activation that also results in a spike in blood pressure and heart rate. The repeated drops in oxygen and spikes in blood pressure can results in numerous health conditions including, hypertension, diabetes, stroke, heart disease, memory loss, weakened immune system, and more. If nothing else, if can contribute to fatigue that is already common when pregnant.
Since women are already at risk of gestational diabetes and high blood pressure during pregnancy, sleep apnea can increase this risk further. The spikes in blood pressure at night with sleep apnea has been shown to translate into sustained daytime hypertension. One study showed women with OSA during pregnancy had close to a twofold increase in gestations diabetes and a twofold increase in preeclampsia.
What is the risk to the baby?
Changes in heart rate, oxygen level, and blood volume of the mom also means change is blood flow and oxygen level to the baby (Acidosis) which can contribute to fetal growth restriction, or reduced weight.
Disrupted sleep can also cause a lower level of growth hormone to be release. One small study showed neonates had a lower average Apgar score and birth weights. A review of research showed higher risk of pre-term birth and NICU admission for mothers with OSA.